I came across this wonderful Satay Recipe and it is devine, so time to share. I have tried it with two types of peanut butter, but i find the whole earth peanut butter adds that little something extra.
Chicken Satay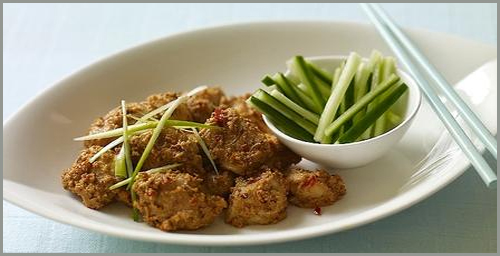 Ingredients
450g  boneless, skinless chicken breasts, cut into cubes
1½  tbsp groundnut (peanut) oil
For the marinade
3  tbsp light soy sauce
1  tbsp Shaoxing rice wine or dry sherry
salt
freshly ground black pepper
2  tsp cornflour
For the satay sauce
3  tbsp smooth peanut butter
1  tbsp chilli bean sauce (available from Asian grocers)
1  tbsp coarsely chopped garlic
2  tsp chilli oil
2  tbsp cider vinegar
2  tbsp light soy sauce
salt
freshly ground pepper
2  tsp sugar
2  tbsp hot water
Garnish
50g/2oz thinly sliced onions
100g/4oz thinly sliced cucumbers
Lets cook !
In a medium-sized bowl, combine the marinade ingredients, stirring to combine. Add the chicken, mix well and leave to marinate, covered, for at least 20 minutes at room temperature. Drain, discarding the marinade.
For the sauce, put all the sauce ingredients in a blender or food processor and process until smooth.
Heat a wok over high heat until it is very hot, then add the groundnut oil. When the oil is very hot and slightly smoking, add the chicken pieces and stir-fry for another five minutes until the chicken is browned.
Turn the heat down to low, add the sauce and continue to stir-fry for another five minutes.
Turn onto a warm platter, garnish with the onion and cucumber and serve at once.
Enjoy nom nom