The line between browsing at a bricks-and-mortar retail location and shopping online has become increasingly blurry. Customers research merchandise on the Internet before shopping for it in person, and they snap photos of items they see in retail stores and share them online to garner feedback from friends and family before making a purchase. Failure to integrate online and retail marketing strategies is a missed opportunity.
As more and more people shop with smartphones in hand, retailers can benefit greatly from incorporating social media into their in-store displays. Not only does this enrich the customer's experience and provide him with instant access to product information, reviews and recommendations, it also helps retailers build long-term online relationships with people who wander into their physical locations. Here are a few ways to use social media to enhance traditional in-store displays.
Bringing social media … in store
Represent Social Media Offline
American retailer Nordstrom has begun labelling some of its most-pinned in-store merchandise with the Pinterest logo. Products like shoes and handbags that have made a splash on the Pinterest web site now jump out at consumers as well-liked and highly recommended. This gives shoppers the sense of having discovered recommendations online without leaving the retail establishment or being distracted in-store by their smartphones. It can also boost customer confidence in products on display; if everyone online likes these items, maybe he or she will, too. Counting Facebook "Likes" could be another strategy. A sign, tag or easily-updated digital display showing "X Likes and Counting" could have a similar impact.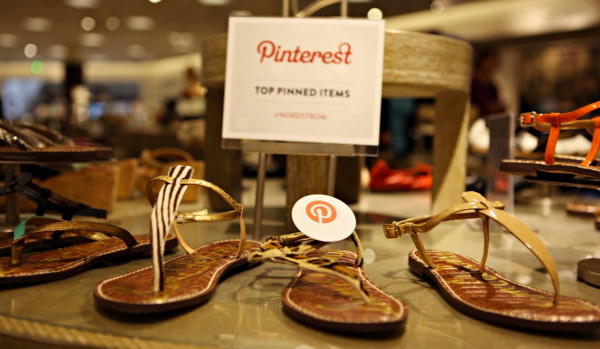 Use QR Codes
Encouraging customers to interact with social media while they shop might be as easy as adding a Quick Response (QR) Code to a traditional in-store display. Diesel used this strategy, enabling customers to quickly scan the codes and "Like" their famous jeans and other products on Facebook while they shop. QR codes can direct customers to a Twitter feed or YouTube video as well. One way to add intrigue to in-store displays is to use a mystery QR code; customers don't know where it will take them until they scan it. You can also offer the answer to a question such as, "What are people saying about this product on online?" with a quick scan.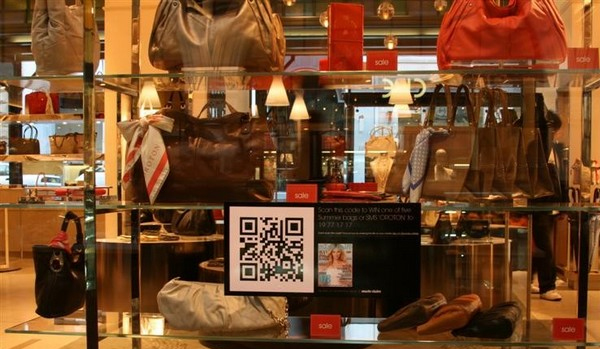 Offer a Reward
Offer a discount to retail-store customers who check in on Foursquare before they shop, or offer customers who "Like" or "Pin" a product on social media sites a chance to win that item. Advertise these kinds of promotions at point-of-sale displays with signage, QR codes or an array of prizes to be won. Shoppers who love to take advantage of discounts or enter contests will be motivated to recognize your store or products in various social media outlets in exchange for these things, making for a positive shopping experience and garnering free promotion and online word-of-mouth advertising for your store and its merchandise as well.
Set Up Interactive Displays
Nordstrom added iPad displays to its Pinterest-tagging strategy so shoppers could immediately learn more about the featured items. Shoe seller Nine West takes this one step further and uses in-store social media displays to offer customers curated social media content. The company chooses what it displays and how that content looks and feels, so the fonts and imagery used mesh well with their retail-location branding. Adding a live Twitter feed to an in-store display or giving shoppers access to a touch-screen kiosk where they can interact with your brand online is a great way to modernize the retail shopping experience.
We live in an integrated world, where online and in-person marketing strategies can be most effective when used in tandem to offer consumers easy access to information and richer shopping experiences. Encourage customers to interact with your brand long after they leave your store and boost chatter about your products on social media sites by making social media part of your physical retail location's in-store displays.
Traditional In Store display companies like http://www.assigns.co.uk are embracing various technologies to enhance the customer experience both graphically and digitally.