A festival that joins fun and food information welcomes everyone who eats food to their eighth annual celebration in Suffolk. Those who prefer to drink are also encouraged to come and enjoy the beverages in the beautifully preserved brick malt kilns on the river Alde. The east coast of Suffolk and the Alde Valley produce many kinds of crops that supply local residents with fresh foods and an alternative to boxed "food" found in large chain grocery stores.
Aldeburgh Food & Drink Festival

The kilns are also known as concert halls for the Aldeburgh Music Festival, but soon they will house all manner of enticing foods and other goodies. Shops with art, books, kitchen tools and crafts are interspersed with food vendors and exhibits that offer a very interesting perusal. When dinnertime rolls around and there is nothing to cook, pop in to the festival and have a couple of tasty dishes instead of old peanut butter. Starting 27 September, it's great food all weekend. www.aldeburghfoodanddrink.co.uk
Inns, bed and breakfast establishments, hotels and pubs in this area like to provide food for customers from local produce and locally made breads and pastries. Restaurants boast of home-grown produce, meat and dairy items that make up their menus as well, and it makes a difference in the quality and taste of each dish.
What is the point of this festival? Aside from fun and great tasting food and drink, the idea of eating locally is a big focus. Grow the food and eat it instead of buying a jar of something from another country that has been sitting in a factory for a year. Learn to make marinara sauce like an Italian grandmother and use your own garden vegetables to do it. Not everyone can do this, but most can find a variety of locally made foods that cover most dietary needs. Large commercial markets even offer some local products because they must compete with local growers now, a quickly expanding source of competition.
This practice may seem like a throw-back to the 1890s when everyone had to buy local foods, but that is not a bad turn of events. No one grew crops from mutated seed, or GMO seed, then. It is a good time for people to take responsibility for their own food intake and demand the best, and the best is food grown within about a 75-kilometre encircling area from where one lives.
While enjoying the surprising variety of foods from the Alde Valley, look into the idea of incorporating gardens into local school curriculums for credit and for growing real food to eat at school. Children should know why it is important to eat locally, and learning how to do so at school seems like an appropriate and valuable lesson. Families may be more motivated to have their own gardens at home to support the improved health and education of their children.
The lovely Suffolk countryside has become a gold mine of food and drink in supporting farms, small farm markets, wildlife reserves and local shops in their endeavours to grow local food products. The green initiative in Suffolk County is very encouraging to area growers, pig farmers, dairy farmers and makers of homemade foods, and attending the festival is a good way to support them.
Find out about the Fringe Events at various locales in Suffolk that take place before and after the main festival weekend. Two weeks into October, demonstrations, workshops, family activities and tours are available to build on the idea of producing food locally. What a fun way to learn about something so beneficial to everyone. Eat, drink; be merry.
News for Kesgrave Hall
The best bit about this break is the sooner you book, the better the room!
Hopefully the sunshine will continue throughout September. So we've put together a great overnight break at milsoms Kesgrave Hall to tempt you to indulge in a night away before the autumn.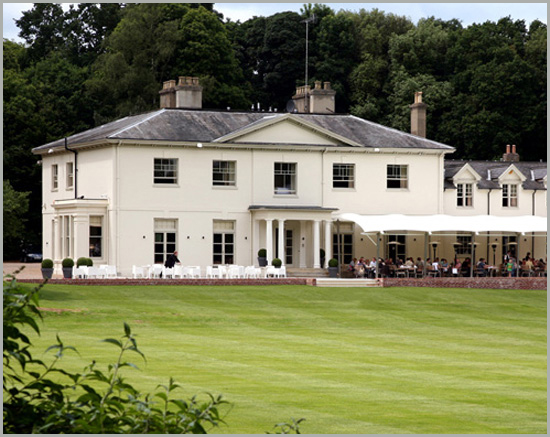 What's included?
Three course dinner (free choice from the a la carte menu, so no hidden supplements)
Overnight accommodation in the best available room when you book
Full breakfast
£100 per person any day of the week from Sunday 1st – Monday 30th September 2013.
This offer is based on double occupancy and is subject to availability.
Kesgrave Hall Hotel, Ipswich, Suffolk
Hall Road, Kesgrave
Ipswich, Suffolk
IP5 2PU
More Information
For more information call Kesgrave Hall on
01473 333741 or email reception@kesgravehall.com
http://www.milsomhotels.com/kesgravehall