The need for extra storage in kids berdrooms is always welcome.  the Daily Grind has come across some kids lockers that help to solve problem in a rather Funky way that the Kids will love.
Strong, easy to assemble Lockers and wait……. some really funky locker colours.
Kids Lockers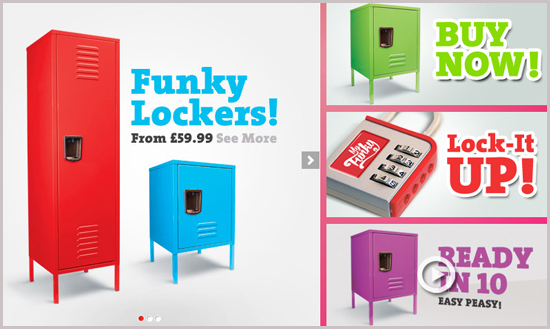 The site also offers accessories for the Kids Lockers; padlocks, stickers and shelves. The lockers come in two locker sizes at the moment :
Locker Assembly :  Self assembly
Lockable : Yes
Large Locker Size : H:137cm x W:38cm x D:38cm
Large Locker Weight : 23.00kg
Small Locker Size : H:61cm x W:38cm x D:38cm
Small Locker Weight : 10.00kg
Kids Locker Colours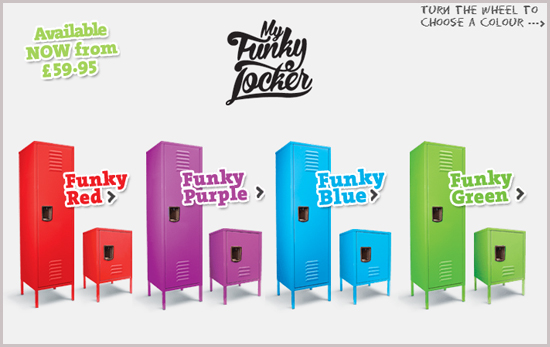 Kids Locker Red
 Funky Red is one seriously hot funky locker! It's a flaming red funky locker and demands to be respected..! A highly responsible adult will put this together in minutes and thereafter you will be the envy of your friends!!
Kids Lockers Purple
  The large funky purple MyFunkyLocker is available immediately. This shade of purple will mingle perfectly with many other colours. It's cool, it's certainly funky and it is only a few clicks away from being yours to keep.
Kids Lockers Green
 Come on…..! Who does not like green, especially funky green? Children's furniture has never ever been so cool. The small funky green locker is fun, fresh and funky – it's super quick to assemble and will remain funky forever!!
Kids Lockers Blue
 Funky Blue is true and completely you…!! Go on, give it a try! A MyFunkyLocker makes any kid's bedroom funky! The small and very funky blue locker is the kind of blue that makes you happy!
Lockers for All Uses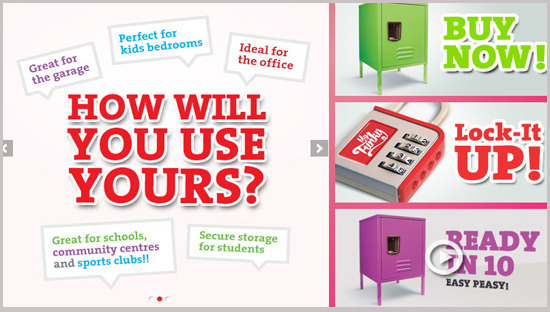 perfect for garage storage
perfect for schools, sports clubs
secure storage for students
ideal for secure home storage
Locker Assembly
My Funky Lockers promises that these are Easy to Assemble and to be honest looking at their instructions, it seems pretty simple.
To Sum it up, this locker company is bang on the money, great product, great colours  and all the customer service you need.
After all, how could you not love a company that's ethos is :
"We absolutely utterly and completely promise to ALWAYS make things thatare FUN, FRESH and above all FUNKY!!My Funky will ensure EVERY product we sell stands out from the crowd – by being both QUIRKY and QUALITY!"
Kids Lockers
My Funky Lockers add colour and style to any room providing excellent secure storage for children. Available in loads of different colours and designs and are really quick and easy to assemble, making them the perfect addition to any Kids bedroom
+Tim Capper