Every person who suffers from lactose intolerance knows the inconvenience of avoiding their favorite dairy products. Something as simple as a cup of coffee can become an ordeal when you factor lactose intolerance into finding a delicious and satisfying creamer. Imagine if there was a delicious, satisfying, and healthy substitute that lets you experience the joys of dairy again – without any of the uncomfortable repercussions.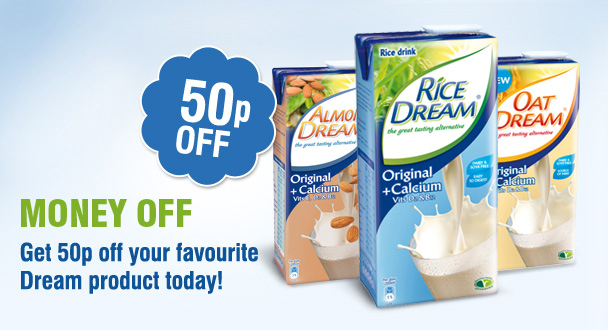 A Truly Satisfying Dairy Alternative
Have you been dreaming about a way to enjoy the dairy-rich foods you love? Let rice milk give rise to your expectations. Rice milk is a dream come true for sufferers of lactose intolerance. Rice milk has a delicious taste and pleasing texture that is similar to traditional dairy. It is a wonderful compliment to cereal, baking recipes, and coffee and tea. However unlike dairy, you don't have to worry about suffering any of the uncomfortable consequences of indulging in the foods you love!
An Allergy-free Dairy Alternative
With food allergies on the rise, rice milk is becoming a rising star in the world of allergy-free foods. Rice milk is a naturally healthy and low fat alternative to dairy. It is also naturally cholesterol free, which makes it a hearty healthy alternative to dairy. It has a smooth taste that won't disagree with your digestive system. While many people who suffer from lactose intolerance turn to soy milk as an alternative, the truth is that many people who are sensitive to dairy are also sensitive to soya products. This can be a frustrating experience, as it leaves us feeling deprived of the simply joy of milk. Rice milk is a hypoallergenic food, which is a welcome relief for people who suffer from food sensitivity. So, go ahead and wash down your favorite dessert with a tall, cold glass of rice milk and never feel deprived again!
Great for Your Healthy Lifestyle
Rice milk isn't just for people who experience lactose intolerance. Some people simply prefer the taste of rice milk over traditional dairy. In addition, rice milk is a great alternative for people who are committed to a vegan lifestyle of eating. The natural sweetness and lack of cholesterol makes rice milk a smart choice for people who are health conscious or following a regimented diet that doesn't make allowance for dairy.
Never Substitute Taste
Rice milk is most commonly composed of milk from brown rice. The naturally sweet taste is created by the enzymes in the rice. People who discover rice milk find this subtly sweet taste very satisfying.
Get Back to Baking
Rice milk is perfect for dairy substitution in baking. Too often, sufferers of lactose intolerance are forced to give up their favorite desserts or put aside their love of baking because the ingredients in their favorite dishes and desserts contain dairy. By substituting rice milk for milk and cream in recipes, you can experience all the creamy richness of dairy without suffering the consequences of indulging in your favorite desserts!

Great for Kids
The naturally sweet taste of rice milk makes it a hit with kids! Children who suffer from lactose or soya intolerance shouldn't have to go without the benefits of milk. It is important for parents to make sure that their kids are getting the proper amount of protein, calcium, and vitamins that other kids get from their daily dairy fix. Rice milk provides all the things that kids need to grow healthy and strong, just like the other kids who consume dairy. In addition to the traditional flavor, kids will love the yummy vanilla, chocolate, and hazelnut and almond flavored varieties. Kids will love cheer for more as they wash down their meals with these delicious, healthy drinks.
Rice Milk Rises to the Occasion
Delicious rice milk is a refreshing alternative to dairy. Its hypoallergenic qualities make it a wonderful choice for people who suffer from a variety of food sensitivities, including soy. Rice milk allows you to get back to enjoying the treats you love without worrying about how you will feel afterwards. Say goodbye to feeling deprived once and for all. The whole family can enjoy the delicious taste and healthy benefits of rice milk day after day!
Rice Milk for Lactose Intolerance
Free from artificial additives and full of goodness and flavour,<br /> our Rice Dream Original + Calcium & Vitamins is a healthy and great tasting dairy-free alternative for all to enjoy.
+Tim Capper