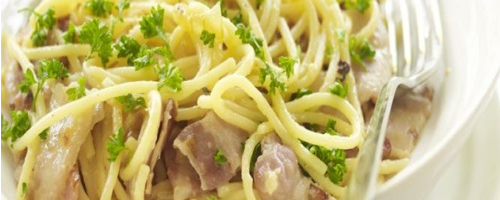 This Carbonara recipe is Dairy Free. If you are not worried about being Dairy Free, then simple replace Rice Milk with Single Cream.
Simple and Delicious Carbonara
 Ingredients
250g spaghetti
Knob of dairy-free spread, butter if not Dairy Free
1 tbsp olive oil
1 shallot, finely chopped
2 garlic cloves, crushed
6 rashers streaky bacon, chopped
2 eggs
150ml Rice Dream or Oat Dream, single cream if not Dairy Free
1-2 tbsp nutritional yeast flakes (optional)
Chopped parsley to serve
1 Lemon or Lime, depending on your taste buds
Lets Cook
Cook the pasta according to packet instructions in a pan of boiling salted water with a little oil.
Heat the dairy-free spread and oil in a small frying pan and cook the shallot, garlic and bacon for 5-7 minutes until golden.
Beat together the eggs and Oat Dream or Rice Dream with plenty of black pepper and the nutritional yeast flakes.
Drain the spaghetti and add to the frying pan, off the heat. Add the egg mixture and toss together until the pasta is evenly coated.
Squueze in half lemon or lime, taste. If you need a little more zing squeeze in the other half
Divide the mixture between bowls, garnish with parsley and season to taste.