When picking out the perfect present for your mum for Mother's Day, there's no way to her heart like the gift of chocolate. In choosing a decadent chocolate gift for this special holiday that your mother would surely love, you definitely want to choose a gorgeous, delicious, high quality selection of chocolates. Here are some of the ultimate chocolate gifts to give to your mum this Mother's Day, along with a few other treats to delight her with.
Chocolate Gifts for Mother's Day
These chocolate gifts are sure to bring a smile to your mother's face and warm her heart when you give them to her for Mother's Day.
Godiva
Godiva's luxury chocolates have become some of the most sought after chocolates in the world. With a variety of beautiful truffles and an extensive collection of individual chocolates, you can pick up some decadent treats for your mum at one of Godiva's retail locations in London, online or in a retailer that carries the famed chocolates.

Godiva offers an incredible selection of gorgeously crafted truffles in flavors like Speculoos, Mousse de Lait, Noire Intense, Perle Noire and many other unique varieties. Godiva also offers fresh chocolate dipped strawberries, in milk, white and dark chocolate, that will show your mum just how sweet she is.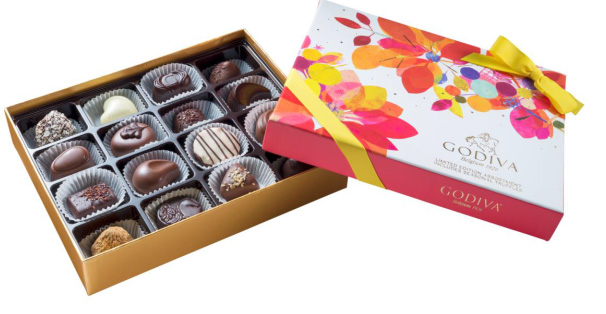 Godiva has several boutique stores in London, with Godiva UK  also available online www.godivachocolates.co.uk
Hotel Chocolat
This British chocolatier grows their cocoa on their own Saint Lucia based plantation, giving them the highest level of quality control when crafting their delightful chocolates. You can be sure to find the perfect treat for your mum for Mother's Day when visiting one of their stores, each of which is full of enticing flavours of chocolates, with truffles in varieties like Balsamic Caramel, Champagne Bellini, Lemon Berry Tart, Chilli, Pink Champagne, Ginger & Almond Praline, Salted Caramel Cheesecake and many more.
Hotel Chocolat also offers a convenient online shop featuring perfectly selected assortments of chocolates made just for mums. www.hotelchocolat.com
Thorntons
Thorntons is the UK's biggest independent chocolate-maker, offering a wide variety of chocolate gifts perfect for mums. Thorntons has hundreds of shops located all over the country, so you can surely find a retail location to pick up some wonderful chocolates for your mum for the holiday.
The retailer also has an online shop with a wide selection of Mother's Day gifts, including a Continental Tasting Heart Collection, an Indulgent Gift Bag Collection, a Mother's Day Heart Chocolate Box, their Mum's Lovely Collection and many other gifts that will bring great joy to your mum for Mother's Day.
www.thorntons.co.uk
Unique Mother's Day Gifts
These unique gifts for Mother's Day will surely make your mum feel incredible as can be on this special holiday just for her!
A Jazzy Sunday Lunch
Treat your mum to a performance of two of the leading jazz vocalists of the country, Tina May and Todd Gordon. They will be performing a beautiful and entertaining tribute to Ella Fitzgerald featuring such classic tunes as "Lady Is a Tramp," "Manhattan" and "Ev'ry Time We Say Goodbye." The performance will take place at Ronnie Scott's on Mother's Day from 1pm to 3pm and includes an interval. A Sunday lunch menu will be available for guests to order upon arrival.
Rococo Chocolate Workshop
If you really want to surprise your mum with more than just a box of chocolates, treat her to the "Mum and Me Truffle Rolling" course at Rococo Chocolates' school. This course is a special Mother's Day version of their Truffle Rolling Workshop that was designed with mums and children ages 8 and up in mind. The course will guide participants through scrumptious chocolate tasting and teach participants how to roll, dip and coat their own truffles. The class is held from 2 pm to 3:15 pm on Sunday 30th March.
Spatisserie at the Dorchester Spa
The Dorchester Spa offers incredible services perfect for treating your mum to an unforgettable Mother's Day experience. They offer the ultimate in pampering with manicures, massages and an array of treatments, along with plenty of decadent treats for you and your mum. You can enjoy a lovely Spatisserie Champagne tea, along with a delightful lunch of miniature scones and finger sandwiches, all in the comfort of fluffy white robes. The Dorchester Spa is open 7 days a week, so you can enjoy this Mother's Day experience on any day that works for you.
Other Chocolate Treats
If you are looking for chocolate and a day out in London, the Godiva Chocolate stores are always dipping Chocolate strawberries.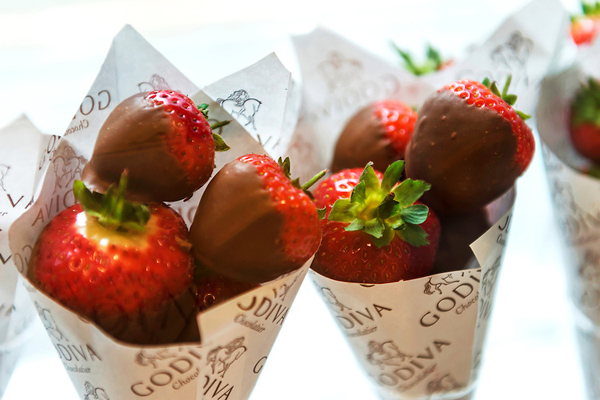 Godiva Chocolate Cafe in Harrods, is a chocolate lovers mecca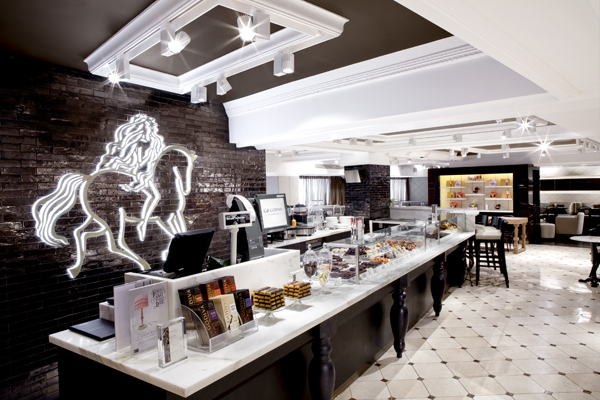 ---
Tim Capper writes for himself at the Daily-Grind
---