Update 5th Feb 2013
My parcel has still not arrived – almost 60 days now !
I have had another reply email, again asking for my parents moile numbers (I have now provided this 3 times). I even sent the exact Longitude and Latitude off Google Maps. Tried calling but was stuck on hold (international call) for 11 minutes, so I hung up.
P.S : Netflorist could you change the Christmas parcel ordered to a Birthday parcel, its my Dad's Birthday on the 27th Feb
Original Netflorist Complaint
I am writing this rather disgruntled post after using NetFlorist to send my Mum and Dad in South Africa a Christmas Parcel. The reason I chose NetFlorist is they claim "NetFlorist – SA's largest flower and gifting service", so what could go wrong?.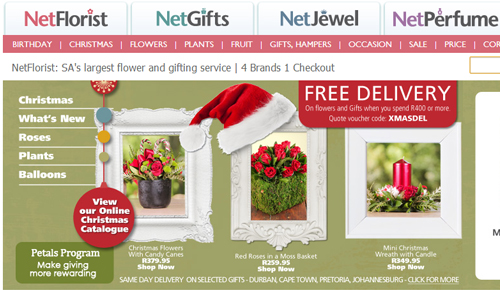 NetFlorist Fails to Deliver
The only thing that could go wrong was the Address. My Mum and Dad live on a plot, smallholding which I don't think is in satnav yet. So when ordering I added 2 mobile phone numbers to the order form, my mum's and dad's.
In the delivery instructions I stated : Please can you phone either of the mobile numbers to confirm exact delivery address / directions
Two days later i recieve an email saying that they were unable to deliver the parcel and can i provide a mobile number. AAAAAggghh – I gave you 2 mobile numbers.!!
NetFlorist Fails at Customer Service
I responded to the email ……. no reply.
I responded again th the email asking if it had been delivered …… out of office autoreply.
I sent email to main customer email …….  No reply
I phoned my Dad in South Africa and he confirms that there has been no delivery or Phone Call.
To make things worse, yes this was for Christmas, but my Mum has had an operation and is due home today from the Hospital.
NetFlorist Fails
Thanks NetFlorist …… for nothing !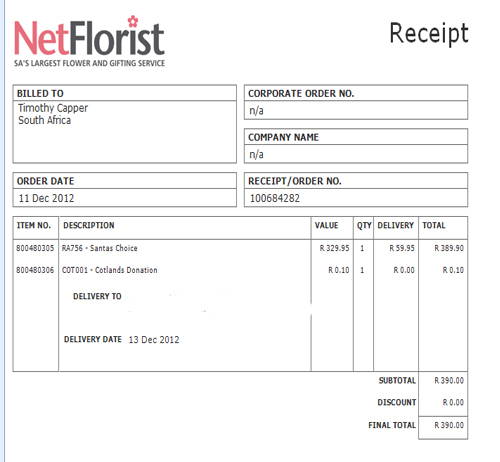 NetFlorist Email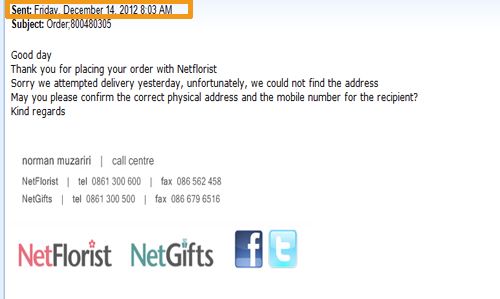 NetFlorist My Responce
I have removed the screen shot as I inadvertenly had the address on

In my reponce, I again provided the phone numbers, and this time exact Google Map co ordinates.
NetFlorist and Google Maps
I have removed the Google Maps for security / crime concerns which was kindly pointed out to me by a reporter….. scary.
Hopefully with the 2 mobile phone numbers and these 2 Google Maps, NetFlorist may be able to deliver my parcel before Christmas …… or reply to my email ??