While it's always possible to buy fall fruits in the store, there's something about picking your own at a farm that adds to the enjoyment of autumn. Whether you want apples for fresh eating or for pies and turnovers, apples that you pluck off the tree yourself will inevitably taste better.
Autumn, Halloween, and Thanksgiving all bring pumpkins to mind. Many farms offer fields of pumpkins of all sizes and shapes. Many will be carved into jack-lanterns, but pie pumpkins will be made into delicious pies to be served proudly at the Thanksgiving table.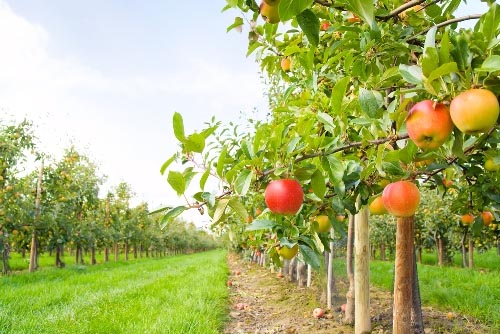 Finding a Farm near You
Farms that offer you the chance to pick fall fruits are scattered throughout the country, so finding one near you should not be difficult. The list below includes some of the best farms for this purpose, but you can also contact your county agricultural agent for others.
Baugher's Orchards, in Westminster, Maryland, has an extensive apple orchard with a variety of apple trees. The dwarf varieties make it easy for families to pick the apples they want, and this orchard also has a restaurant and farm market, too. Pumpkins are ripening nicely, ready for pies or carving.
Those looking for fruits and vegetables grown without the use of chemical pesticides will love Happy Acres in Beloit, Wisconsin. This farm uses only natural methods to grow its produce. Not only do they have plenty of apples and pumpkins ready to be picked, but you can also pick up a supply of winter squash, too.
Apple Starr Orchards offers not only apples during September and October, but also juicy, sweet pears. Located in Julian, California, this orchard makes a great family trip, and the low branches on the trees makes it easy for children to participate in picking the fruit. This orchard has 1,000 trees.
The family owned Outhouse Orchards (North Salem, NY) have plenty of apples ready for picking through October. Most of the trees have branches low enough for even children to reach, but for those upper branches, apple pickers on poles are supplied. This is also the place to go for pumpkins and gourds.
Mercier Orchards in Blue Ridge, Georgia, has Cameo, Ambrosia, Fuji, and Honeycrisp apples ready for picking during September, October, and November. Repeat customers at the orchard swear that the taste of their fruit is greatly superior to that available elsewhere.
Royal Oak Farm, Harvard, IL, offers apple picking through mid-November. This farm has over 25 different kinds of apples growing on 15,000 trees, so whether you want apples for pies, apple brown betty, or for fresh eating, this is the place to go to. They also offer giant pumpkins as well as 'ordinary' pumpkins. People with disabilities are welcome and provided for at Royal Oak Farm.
Visiting a farm to pick your own fruit is one of the best ways to celebrate autumn.  It is homage to the days where farming for your own foods is mainstream. Take the whole family and make a day of it!
Tim Capper enjoys fall travel destinations and often uses Travel Advantage Network for accommodation when traveling
---