John Constable was a renowned Romantic painter from Suffolk, England. Not only was he born in Suffolk, but he also resided there throughout his life. He was born in June of 1776 and passed away in March of 1837 at the age of 60. He was particularly beloved for his depictions of Dedham Vale, which is an area of lush natural beauty in the eastern region of England. Dedham Vale, which was right by his residence, is currently referred to as 'Constable County,' a nod to the famed painter. The landscape painter's most well-known works are the Hay Wain (1821) and Dedham Vale (1802).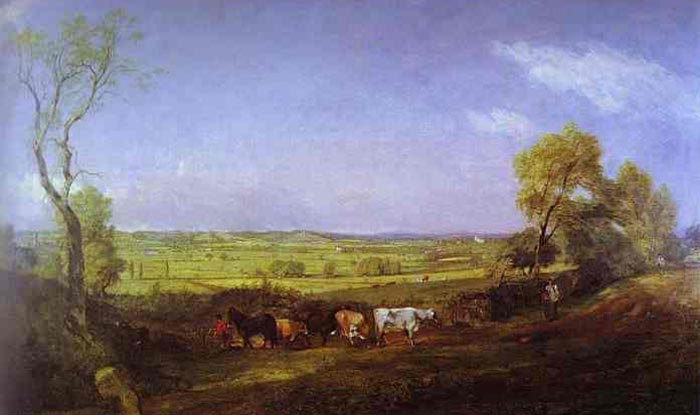 While Constable's works are prized in the world of British art, he didn't enjoy much financial success during his lifetime. Although he hailed from England, he actually had more success selling his work in France, specifically in Paris. Constable, for the most part, learned to paint all by himself without outside assistance. His immense painting talent emerged in a rather gradual manner.
Constable once remarked on his strong penchant for painting the areas by his childhood residence. He penned the statement "I should paint my own places best." He differed greatly from many of his contemporaries in the landscape painting world in that one respect. While these other landscape painters frequently traveled all over looking for unfamiliar breathtaking landscapes, Constable never even set foot outside of England.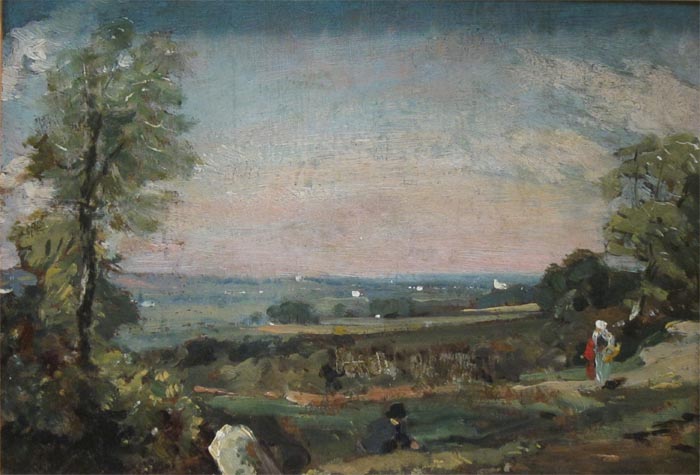 Dutch artists were a significant source of inspiration for Constable, specifically the landscape painter Jacob van Ruisdael. Constable was similar to the British landscape painter Thomas Gainsborough in that way. Constable also learned a lot by observing the painting composition of both Claude Lorrain and Peter Paul Rubens. Constable's works differed from those artists, however, in that it was markedly more vivid. Realism is a signature of Constable's works.
Constable – The Making of a Master
If you're one of the many people fascinated by Constable's talents, then you might be interested in the exhibition 'Constable – The Making of a Master.' This exhibition runs from 20 September 2014 all the way up to 11 January 2015 at the Victoria and Albert Museum in London. If you view this exciting exhibition, you'll be able to gain some insight on all of the situations that brought upon many of Constable's most prominent paintings. When you view the exhibition, you'll not only be able to look at the legendary Hay Wain, but you'll also be able to gaze at many of the painter's oil sketches that were inspired by quaint natural scenery. Open-air sketches were a big favourite for Constable.
The exhibition will showcase some of the painter's inspirations and methods. It will also highlight the permanent effect Constable has had on British art and on art in general. Viewers of the exhibition will be able to compare Constable's works to the many traditional landscape paintings he so intensely admired. While Constable was indeed driven by many other landscape paintings composition-wise, as indicated before, his ideas on the stunning beauty of nature came straight from his own mind. After you walk out of this riveting exhibition, it'll likely change how you look at landscape painting forever. Constable was a big driving force in the evolution and growth of landscape painting. Constable is actually directly responsible for how many people across the world think of the idyllic English countryside.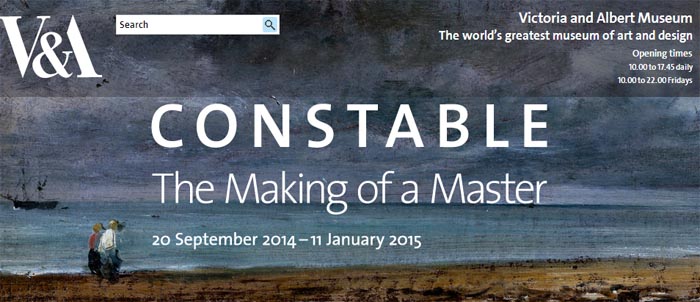 If you'd like to visit Constable's upcoming exhibition, be sure to plan your trip carefully. The museum strongly suggests that individuals reserve their visits beforehand. You have several choices in how to book your tickets to the exhibition. You can do so via the telephone or the Internet, to start. You can do so at the Victoria and Albert Museum, which eliminates the need to pay booking or handling fees.
Note that children less than 12 years in age are permitted to visit the exhibition free of charge. If you're planning on visiting the exhibition in a group of at least 10 people, you'll be able to receive a 10 percent discount, as well. If you want more information on discounts, you can request it by calling the museum.
Be sure you're aware of the museum closing times. The museum opens at 10.00 and closes at 17.30 each day. On Friday, however, it opens at 10.00 and closes later at 20.15. Remember that the Constable exhibition closes 15 minutes before the museum does. If you wish to visit this exhibition and learn more about this intriguing landscape painter's life and paintings, plan your trip to the museum in a thorough manner.
Victoria and Albert Museum Location
Cromwell Road
London SW7 2RL
The Victoria and Albert Museum, London, is the world's largest museum of decorative arts and design, housing a permanent collection of over 4.5 million objects. It was founded in 1852 and named after Queen Victoria and Prince Albert.
www.vam.ac.uk/content/exhibitions/exhibition-constable-the-making-of-a-master
Visiting Dedham Vale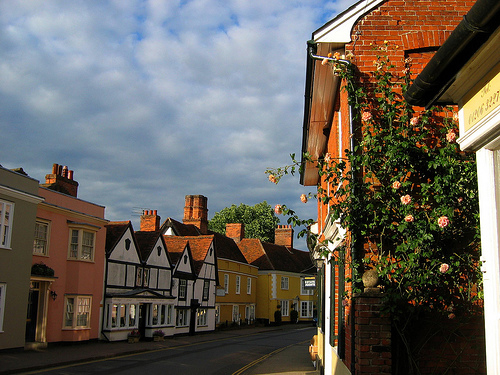 From London
Turn off M25 at Brentwood onto A12. Continue on A12 towards Ipswich, bypassing Colchester. Take the left exit signposted "Stratford St Mary, Dedham and Higham. Turn right at bottom of hill to Dedham, over bridge and down hill.
Hotels in Dedham Vale
Two highly recommended hotels in Dedham Vale is milsoms and Maison Talbooth, both situated in the heart of Dedham Vale and overlooking the river Stour.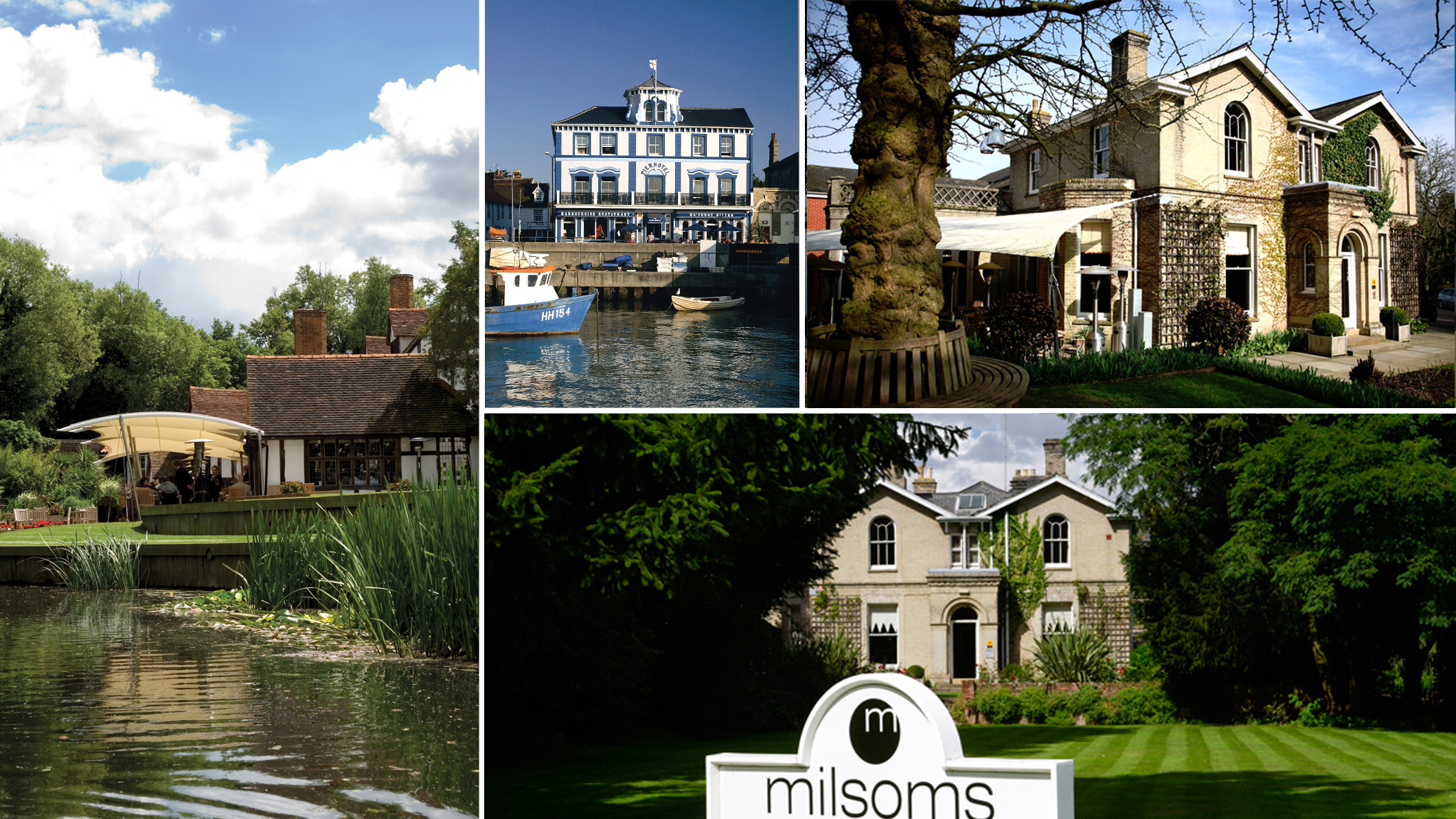 milsoms
Stratford Road, Dedham
Colchester
Essex
CO7 6HW
01206 322795
A little further up the road and this hotel includes a wonderful Spa.
Maison Talbooth
Stratford Road, Dedham
Colchester, Essex
CO7 6HN
01206 322367
www.milsomhotels.com/maisontalbooth
---
Tim Capper writes for himself at the Daily-Grind
---