There are a number of exciting kids and family friendly events coming up in Corby and the surrounding area for the May half term. From sporting and fitness events to family fun days and crafts, there is something for all kids to enjoy on their May half term break.
Half Term Events in Corby this May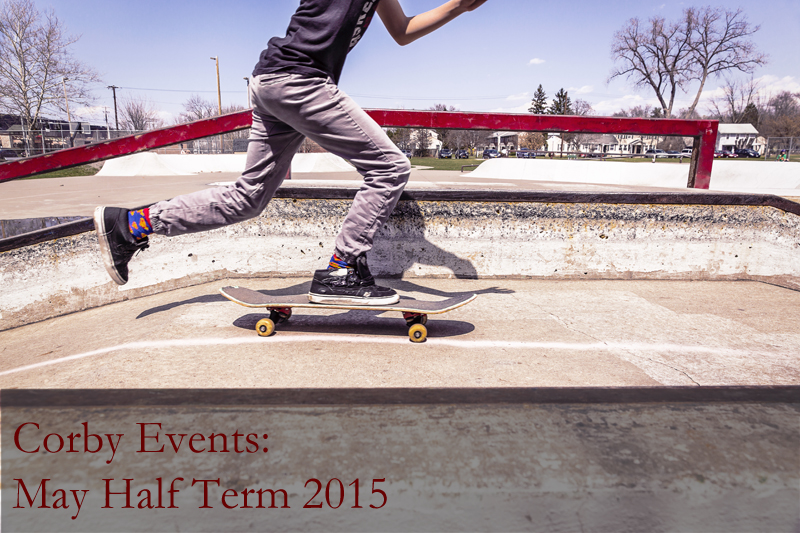 Lakelands Festival Fun Day
The Lakelands Festival Fun Day takes place at East Carlton Country Park on Monday, May 25th from Noon until 4 PM. This delightful event offers plenty of free parking and free admission, so bring the entire family out for a day of fun! The Lakelands Festival Fun Day will feature activities such as children's rides, face painting, dance performances and more. There is a nominal charge for some of the activities, and all proceeds benefit the Lakelands Daycare Hospice.
Teen Fit at the Corby International Pool
The Corby East Midlands International Pool's Team Fit program is an excellent way for kids between the ages of 12 and 15 to use the facility's gym at only £3.20 per session. Equipment available at the gym includes bikes, rowers, treadmills, cross trainers and more. Kids also have the option to sign up for a Junior Leisure Membership at the Corby East Midlands International Pool, which includes gym access, public swimming and other benefits.
Sports Activities at the West Glebe Sports Pavilion
During May half term, kids can enjoy various sports activities at the West Glebe Pavilion. Family Fit Fun Day takes place on May 23 from 10:30 AM to 4 PM, where families can enjoy fitness programs, a fun fair and park sponsored fun run. On May 26th and 27th from 1 PM to 3 PM, kids can participate in a Football Pay and Play event which costs just £1 for kids under 18 and £2 for kids over 18. On May 28 and 29, kids ages 4 to 14 can attend the May Football Fun Days event where they can learn new skills in a fun environment.
Holiday Activities at the Lodge Park Sports Centre
The Lodge Park Sports Centre is offering many activities over the May half term for kids from ages 6 to 14 to enjoy. These activities include arts and crafts, board games, sports, archery, clay making and much more. Parents should contact the Lodge Sports Centre to book space for their kids, and half day, full day and weeklong bookings are available.
The Happenin' Project
The Happenin' Project is a series of events taking place across Corby during May half term for kids from ages 8 to 13. These events include activities such as football, arts and crafts, games, educational activities and more. The first event is free, and each additional session costs only £1. For parents who are interested in registering their children for the Happenin' Project program, contact Kevin Williams at the Corby Borough Council.
www.corby.gov.uk/home/leisure-culture/childrens-activities/happenin-project
Art in the Making Festival
The Art in the Making Festival is a free family fun day on May 30th and May 31st from 10 AM to 4 PM. The event takes place at the Old White Hart country inn in Lyddington and includes an art exhibition, art demonstrations, live music, stalls and a hog roast.
Parks and Woodland Areas
In addition to the many May half term events for kids in Corby, the community is home to a great selection of parks and woodland areas with free parking where kids can play, go for hikes and enjoy other activities. Parks in the area include the East Carlton Country Park, Weldon Woodland Park, West Glebe Park, Corby Boating Lake, and Corby Woodlands.